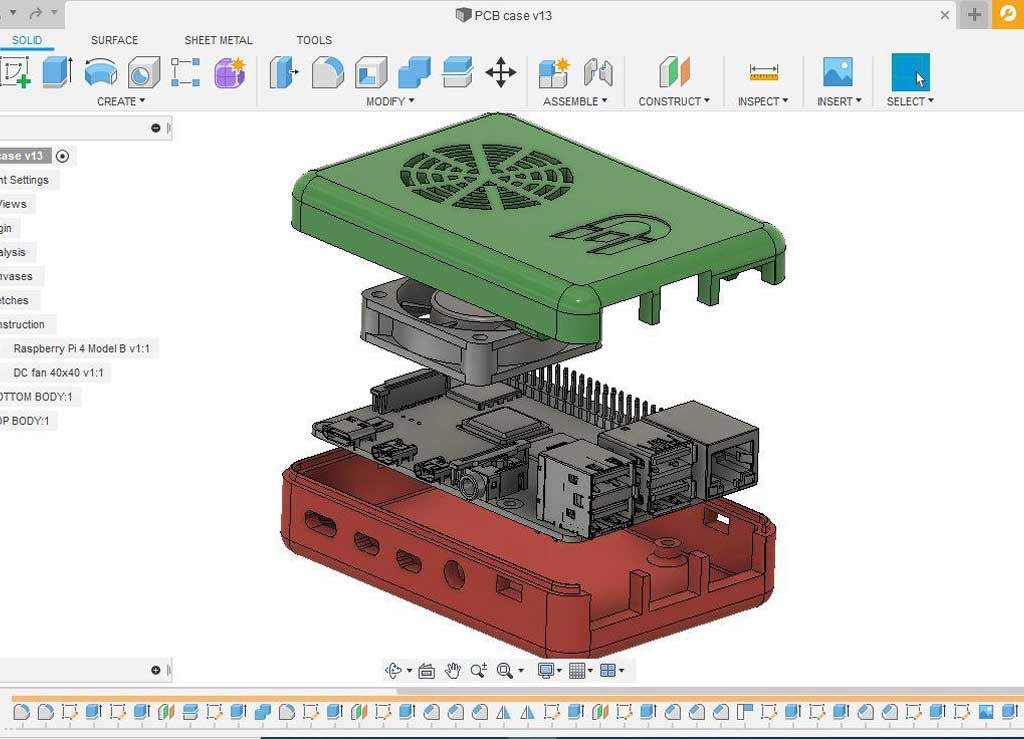 How to design a 3D printable PCB enclosure
In this tutorial, I am going to teach you the enclosure design for your PCB using Autodesk Fusion 360.
Autodesk Fusion 360 is a CAD/CAM software, designed by a company called Autodesk.
It's a cloud-based software. This software is mostly used in the engineering & CAD/CAM industry.
Since it is cloud-based, therefore it is very easy to access your data on any device around the world.
Also, this makes it easy to share with other professionals around the globe.
I had divided this completed tutorial into multiple parts. So, you can follow step by step.
1. How to upload any file to Autodesk Fusion 360.
The first step we have to do is, we need to find the Scale (1:1) 3D model of all our PCB components like PCB, Fans, Screen, Battery, etc from the platform like GrabCAD, Thingiverse, etc.
From these platforms, you will able to download the model files free of cost for your non-commercial use.
Then we will save all the component's Cad file preferably in STEP/STL file format in a local folder in our PC.
To get an overview of supported file formats in Autodesk fusion 360, click on the link: Supported File format
Now we will start uploading all the component's CAD file in Autodesk Fusion 360.
Follow all the steps below in the video to upload your CAD files to Autodesk Fusion 360 successfully.
Once you are finished uploading all the components of your PCB then you can create a new Design file and save it as with PCB enclosure name.
Then insert all your components and rearrange the components w.r.t origin.
Make sure that, Design units you had selected is correct.
Now you are ready to start the 3D modeling of enclosure for your PCB, in this case, my PCB is raspberry pi 4.
Follow along the Final part of this tutorial ie. part 2 to finish the enclosure design that is 100% 3D printable.
When you had completed the final Top and bottom part of your enclosure, save both the files as STL file format to use them for 3D printing.
And please don't forget to put your comments or feedback about the process, whether it's helpful for you or not.